Anne Mette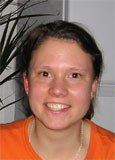 Even in school, I could hardly wait to explore the world. Although I wanted to discover Africa and Latin America, I found myself, after a series of coincidences, at a college in the Deep South of the United States, where I spent three semesters, studying and getting to know the people of the South and their way of life, as well as many international students. Those were my first intercultural experiences and shocks – but certainly not my last.
However, that experience did not satisfy my yearning for faraway places, or my curiosity for other cultures and languages. On the contrary, while studying, that curiosity extended to current events and developed into a love for political and societal satire. Social movements also fascinated me – ATTAC had just been launched – and my participation in numerous larger and smaller events of the European and German Social Forums inspired me.
My interest in development policy contexts did not decrease, and I ended up in the border area between Ecuador and Colombia. There, I learned to deal with situations of not-knowing and not-understanding, and also learned the importance of language and intercultural interpretation, as well as such issues as; the adequate communication, of what we today call collaborative work; the search for visions for problem resolution; and participatory and appropriate handling of challenges.
But back to the present:
My curiosity has remained and I'm a self-confessed news junkie and constant complainer about political situations, while trying to shape my life as sustainably as possible. The fact that in addition to my voluntary service on various boards, I have, since 2005, when I joined the Collegium, also been able to bring my passions and my skills into development work professionally, and to also live accordingly is a luxury – a sustainable luxury, as it were.
I love my work at the Collegium, at the interface of science, politics and society, with the vision to allow these three elements to com with one another better, and with the ability to search for paths to a more just and participation-oriented culture of sustainability and climate awareness. Especially in the SPICOSA project, where I was able to conduct intensive research into these issues, and thus develop methods and acquire skills to work with stakeholder communications. In addition to supporting our international projects, my balancing act of bringing together conceptual text writing and moderating performances in intercultural seminars and the education for sustainable development is very satisfying.
Education:
Study of communications science, political science and sociology at Southeastern Louisiana University and the Freie University of Berlin
Fields of work: International Projects, Education For Sustainable Development, Stakeholder Communications
Contact:
Email: amette@kmgne.de
Phone: 030 / 29 367 942