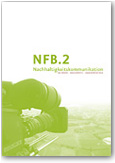 Author/Publisher: KMGNE gGbmH (Ed)
Music Videos, Radio Plays
DVD
Renewable energy, energy efficiency and globalization.
Description only available in German:
Inhalt der DVD: Heavy Potter . Popcorn. Der Hund (El perro) . Das Solarauto (Auto solar)  . Quijote (El quijote)  . Klimax (Climax). Was wäre, wenn? . ABC  . Der Schäfer . Where do you want to go? . Die Brücke (El puente) . Die Wippe (El balancín) . Gehen wir oder bleiben wir? . Gemeinsam statt einsam . Will ich Arbeit…?
Hinweis: Die auf der Website angegebenen Preise beinhalten die Rechte zur privaten Vorführung. Wenn Sie die Spots/Musikvideos im nicht-kommerziellen Rahmen öffentlich zeigen oder verleihen wollen, müssen Sie die nichtgewerblichen öffentlichen Vorführungsrechte (ÖV-Rechte) erwerben.
Year of publication: 2006
Publisher, place: Berlin
Order
19,80 EUR (Incl VAT and P+P)
Payment: In advance
Per Mail: info@kmgne.de