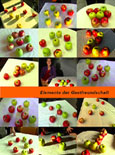 Author/Publisher: Martina Zienert, Bernd Ulbrich, Joachim Borner (Ed.)
Elemente der Gastfreundschaft in der Region Dessau Anhalt Wittenberg.
Pictures of Hospitality: This is the title of the competition was initiated in 2002 on hospitality in the region of Anhalt Dessau, Wittenberg. After numerous submissions in 2002, we have combined some of the words and pictures that made an impression on us into a photo album of wider forms of expression, literature, photography and films.
Description only available in German:
Bilder der Gastfreundschaft: So der Titel des 2002 initiierten Wettbewerbs zum Thema Gastfreundschaft in der Region Dessau Anhalt Wittenberg. Die in Worte und Fotos gefassten Impressionen und Beschreibungen haben uns, nachdem die zahlreichen Einsendungen 2002 in einem Bildband veröffentlicht wurden, gedanklich den Raum aufgemacht, uns über weitere Ausdrucksformen dem Begriff anzunähern: literarisch, fotografisch und filmisch.
Zahlreiche Interviews, die mit regionalen Akteuren über ihr Leben und Wirken in der Region, über ihre Sicht auf Gegenwart und Zukunft, nicht selten auch über die Vergangenheit geführt wurden, zeigen die Vielschichtigkeit der Elemente von Gastfreundschaft auf, und ein weites, für die Profilierung der Region elementar wichtiges Handlungsfeld.
Martin Kühn umreißt es in Nachwort des Buches: "Die Frage danach, was eine gastfreundliche Region Anhalt-Dessau-Wittenberg ausmacht, beantworten die Befragten mit ihrem Selbstverständnis als Bürger und ihrem Bezug zur Geschichte der Region". Auch in den Kompositionen von roten und grünen Äpfeln – wozu wir alle Gesprächspartner aufforderten – fand das Thema Gastfreundschaft symbolischen Ausdruck. Begriffe aus einem Wörterbuch der Gastfreundschaft sind den Interviewtexten zur Seite gestellt. Der Fototeil lädt ein zum Blick ins Innere, auf das Thema Zuhause, wie es Jugendliche empfinden und reflektieren, die in dieser Region aufwachsen.
Die Ergebnisse? Elemente der Gastfreundschaft, ein Mosaik von Antworten.
Lesen Sie selbst. Oder kommen Sie und sehen sich (mit uns) den Film an.
Year of publication: 2002
Publisher, place: Berlin
Order
9,60 EUR (incl. VAT + P+P)