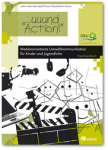 ...aaand - Action!
Book
The sustainable view of film: ... aaand - Action! Media-based communication environment for children and young people. A Practical Guide
Description only available in German.
Der nachhaltige Filmblick, in: … uuund – Action! Medienorientierte Umweltkommunikation für Kinder und Jugendliche. Ein Handbuch für die Praxis
Massenmedien gehören für Kinder und Jugendliche heute zum Alltag. Eine medienorientierte Umwelt- und Nachhaltigkeitskommunikation bietet für Umweltbildner deshalb eine große Chance, junge Menschen an Natur- und Umweltthemen sowie an Fragestellungen einer Bildung für eine nachhaltige Entwicklung heranzuführen. Die Deutsche Bundesstiftung Umwelt (DBU) hat zahlreiche umweltbezogene Medienprojekte gefördert.
Neben theoretischen Grundlagen stellt dieses Praxishandbuch eine Auswahl erfolgreicher, von der DBU geförderter modellhafter Medienprojekte vor, die zur Nachahmung einladen: von der Entstehung über die Umsetzung bis hin zu den gewonnenen Erkenntnissen.
Year of publication: 2010
Publisher, place: Oekom verlag München
Order
ISBN-13: 978-3-86581-211-7
Price: 19.90 €