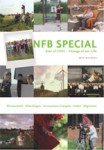 Author/Publisher: KMGNE gGmbH (Ed.)
NFB Special | Best of Cool - Change of our life
DVD
Music videos on labour, migration, renewable energies, climate change, and its effects.
Description is only available in German:
Die bunte Warenwelt kann ihre Schattenwelt nicht mehr verbergen. Dem KlimaClown glaubt keiner mehr — Zeit für ungeschminkte Wahrheiten fanden SchülerInnen Jahr für Jahr und singen ihre lakonischen Bestandsaufnahmen einer Welt, in der nicht nur der Klimawandel längst Gegenwart in einer belastenden Zukunft ist.
Die Musikvideos sind Teil des Projektes COOL – Change of our Life, einer Werkstatt für junge Menschen zur Entwicklung von Gestaltungs- und Medienkompetenz.
Das Kolleg für Management und Gestaltung nachhaltiger Entwicklung führt seit sechs Jahren mit Jugendlichen in Mecklenburg-Vorpommern und Sachsen-Anhalt diese Werkstätten durch, bei denen die inhaltliche, musikalische und auch filmische Auseinandersetzung mit Themen wie Klimawandel und regenerative Energien, Migration und Arbeit im Mittelpunkt stehen.
COOL zielt auf die Kompetenzentwicklungen zur filmischen und musikalischen Beschreibung von Lebenswelten, von Zukunftsvisionen zur lokalen, und globalen Entwicklung, von neuen Bildern und Metaphern und die Betrachtung des Global Change aus neuen Perspektiven. Über die inhaltliche Auseinandersetzung werden die gewonnenen Einblicke in Werkstätten kreativ-multimedial umgesetzt. Die Ideenfindung, die ästhetische, narrative und auch emotionale Übersetzung von Botschaften wird durch Künstler und Wissenschaftler moderiert und begleitet.
Am Ende stehen professionelle Songs und Musikvideos.
In dieser Sonderedition Best of "COOL – Change of our Life" aus der Reihe NFB – Nachhaltiger Filmblick – stellen wir Ihnen die sechs mit zahlreichen Preisen ausgezeichneten Musikvideos vor, die von 2005 bis 2010 produziert wurden.
YouTube Playlist: NFB Special |  Best of Cool – Change of our life
Year of publication: 2011
Publisher, place: Berlin
Order
19.80 EUR (incl VAT + P&P)