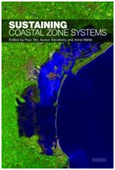 Author/Publisher: Paul Tett, Audun Sandberg and Anne Mette/KMGNE (ed.)
Sustaining Coastal Zone Systems
Book
The book provides an introduction into the system approach for the understanding and management of complex interactions of the natural ecosystem and human economy and society in coastal areas.
Description is only available in German:
Das Buch gibt eine Einführung in einen Systemansatz für das Verständnis und Management komplexer Interaktionen des natürlichen Ökosystems und menschlicher Wirtschaften und Gesellschaften in den Küstenzonen.
Die dem Buch zugrunde liegenden Beispiele speisen sich aus dem europäischen Forschungsprojekt SPICOSA, in dem das Kolleg von 2007-2011 Steering-Committe-Mitglied und Work-Package-Leiter war. Es zeigt auf, wie "kommunikative Rationalität" und die Konstruktion von virtuellen Modellen des Sozio-Ökosystems genutzt werden können, um Stakeholder und Politikmacher darin zu unterstützen, zwischen verschiedenen alternativen Szenarien und Lösungswegen für Küstenzonenprobleme zu unterscheiden, gemeinsam auszuwählen und zu entscheiden.
Die im Buch beschriebene Methodologie führt Denkweisen und Methoden aus Natur-, Sozial- und Wirtschaftswissenschaften zusammen und zeigt den Weg auf zu transdisziplinärer Wissenschaft, Methoden und Dissemination. Es spannt den weiten Bogen zwischen den verschiedenen Disziplinen – zwischen Wissenschaft und Gesellschaft. Damit ist es ein Buch, das sowohl für Akademiker als auch für Praktiker einen Einblick in diesen für das Küstenzonenmanagement neuen und spannenden Methodenkoffer geben wird.
Neben den Herausgebern Anne Mette (KMGNE), Paul Tett (SAMS, Schottland) und Audun Sandberg (Bodø University College, Norwegen), haben Denis Bailly (University of Brest, Frankreich), Marta Estrada (CSIC, Spanien, Thomas Sawyer Hopkins (IAMC, Italien) und Maurizio Ribera d'Alcalà (Zoological Station of Naples, Italien) als Autoren beigetragen. Die Arbeiten korrespondieren mit dem Kommunikationsansatz des KMGNE.
Year of publication: 2011
Publisher, place: Dunedin Academic Press Limited, Edinburgh, Scotland
Order
Paperback ISBN 13: 9781906716271 Published: 23rd June 2011
Price: £17.95